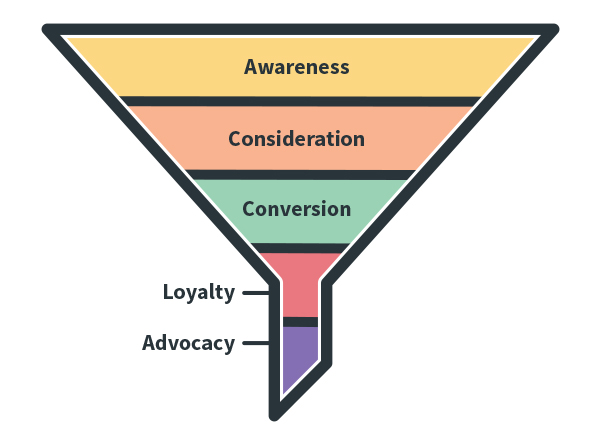 Imagine spending hours writing the best email subject line in history but leaving no time to write the content of your email. That'd be bad planning, right? Although you have an amazing subject line, it doesn't really matter. You're missing a huge part of your email: the content.
Without planning, this same thing can happen with your overall email marketing strategy. You could spend hours designing and writing a compelling email series that explains the amazing benefits of your product. But if you send your email series to subscribers that aren't ready to buy your product yet, you're wasting your time.
You need a start-to-finish plan for connecting with your subscribers.
Thankfully, there's a tool that can help you do exactly that. It's called the marketing funnel.
What is the Marketing Funnel?
The marketing funnel is a tool that helps you visualize the buyer journey, or the path a prospect takes as they become familiar with your company, from introduction to conversion (and hopefully beyond).
A funnel is used to represent the buyer journey, because a prospect either descends into the next stage of the funnel when their interest increases or they exit the funnel when they lose interest. A certain number of prospects enter the funnel, fewer end up purchasing and even fewer absolutely love your product (that's why the funnel is wider at the top).
For example, if 1,000 prospects visit your website, 20 of them might purchase your product and perhaps two of them will love your company enough to tell their friends about you.
Because there will always be prospects that exit your funnel, you should try to increase the number of prospects that enter the top of your marketing funnel and decrease the percentage of prospects that exit each stage of your funnel.
To accomplish this, have a conversion strategy for each stage of your marketing funnel. What are the stages of the marketing funnel? There are five: awareness, consideration, conversion, loyalty and advocacy.
And the best part of the marketing funnel? You can utilize email marketing during every stage. That's one of the beauties of email. Unlike advertisements or other less personal marketing channels, with email you are in control of when and how you interact with your subscribers throughout their buyer journey.
5 Email Marketing Strategies to Take Your Subscribers from Awareness to Advocacy
Now that you understand what the marketing funnel is, I'll describe the stages of the marketing funnel and give you email marketing strategies for each stage.
1. Awareness
Goal: To show the value of your product or service, provide educational content and build a relationship with your subscriber.
Do: Educate, be helpful.
Don't: Sell, give specific details of your products/services too much, try to get your subscribers to purchase.
At the top of your marketing funnel is awareness.  During this stage, prospects that are strangers to your brand and company learn who you are. Focus on establishing yourself as a thought leader within your industry. This is your opportunity to start building a trust relationship with your prospects.
Since prospects in this stage of the funnel don't know the value of your product yet, they won't be engaged by product specific content or sales materials. Instead, you should demonstrate the value of your product through free educational content.
Not sure what free content to send in your emails? Let's say you're a personal trainer who's trying to acquire more customers with email. Here are some ideas for content you could include in an automated email series to your subscribers:
Blog posts about nutrition or fitness
A food tracking calendar worksheet
An ebook that explains the health benefits of being fit
A live 30-minute workout webinar
Fitness guru Betty Rocker builds a relationship with her subscribers, shows her expertise and demonstrates the value of her services by giving her subscribers a free 30-day exercise program.
For 30 days straight, subscribers receive a motivational email with a video workout and a written description of the workout. Talk about providing free, valuable content.